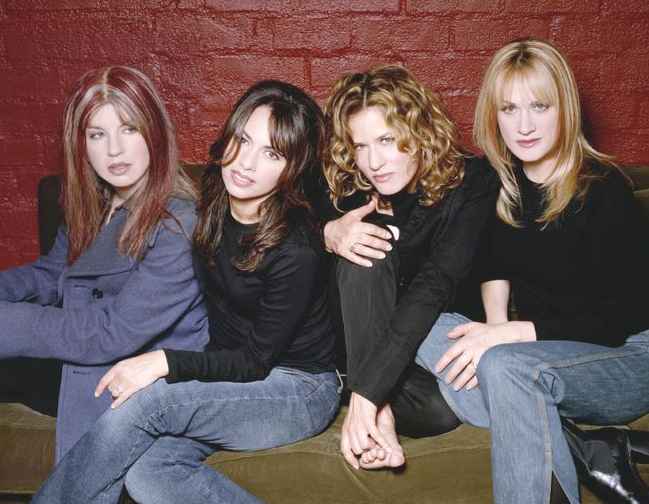 Antes de que las Spice Girls revolucionaran el concepto de grupo femenino, todos teníamos en mente cuando nos hablaban de banda de chicas, a Bangles.
Estas cuatro mujeres triunfaron en los 80 y todavía se recuerdan sus grandes hazañas, en la que destaca poner en la cabeza de tres cuartas partes del mundo canciones pop perfectas como eran
"Walk like an egyptian", "Manic Monday" o "Eternal Flame"
.
Cuánta gente de mi generación (nacidos en los 80 y poco antes) habremos pronunciado nuestras primeras palabras de inglés al ritmo de "Eternal Flame": "Close your eyes and give me your hand....". Nadie hablaba ese idioma pero todos eramos capaces de entonar los primeros versos de esa balada universal.
The Bangles se separaron en 1988 y Susanna Hoffs, su carismática líder, emprendió una carrera en solitario allá por 1991 por la que consiguió algún éxito de menor impresión como
"My side of the bed"
, pero que a la larga no le trajo ni por asomo los estupendos resultados que obtuvo con Bangles.
Años después y sin hacer mucho ruido, en el 2003, veíamos la gran vuelta de las chicas de la cual pocos medios se hicieron eco, y muchos desconocen de la existencia de ese album, que casi podríamos considerar maldito, el cual se llamó
"Doll revolution"
.
"Something that you said"
era el primer sencillo, y venía a decirnos que las Bangles de siempre rondaban por aquí, la hermosa voz aterciopelada de Susanna, los coros armoniosos de las hermanas Peterson, habían reunido los ingredientes necesarios y se habían marcado un logrado single de retorno. La ausencia casi total de promoción y el hecho de firmar por una compañía discográfica desconocida como Korch Records supuso que lo que muchos esperarían con ansias, 15 años después de lo último como banda, acabara siendo algo anecdótico, sin apenas provocar resonancia alguna.
Es una lástima porque el "Doll revolution" contiene alguna de las mejores canciones de esta girl band, en el cual destacan
"Song for a good son", "Lost at sea", "Stealing Rosemary"
o las lentas interpretadas por Hoffs,
"Grateful" y "I will take care of you"
. Se desmarcaron con un total de 15 canciones y de poco las sirvió. Tan estrepitoso fue el fracaso de su vuelta, algo de lo que quizás se arrepientan pues puede manchar un legado que hasta ese momento era intachable en ventas, que ninguna gana se les quedó de repetir la jugada, así desde 2003 que de Bangles como tal no sabemos nada.
Susanna Hoffs ha editado dos discos de versiones junto a Matthew Sweet, pero poco más podemos destacar de las chicas.
No podemos negar que esta banda hizo historia, fueron pioneras de un movimiento femenino que comió terreno a los machos, en un mundo, el del rock, que hasta que las Bangles no asomaron por la puerta parecía dedicado exclusivamente a ellos. La onda expansiva de pocos años después que supuso que muchas mujeres se atrevieran a agarrar una guitarra y sonar bravas, se la deben en gran parte a los méritos de Bangles.
Cuando volvieron en 2003 no eran más que otra banda de chicas más, y el ardid había perdido efectividad, supieron encontrar el momento correcto para triunfar, labraron el camino a infinidad de chicas, pero cuando quisieron regresar se dieron cuenta que su ausencia se había rellenado con infinidad de nombres y que, tristemente, pocos se acordaban ya de ellas.