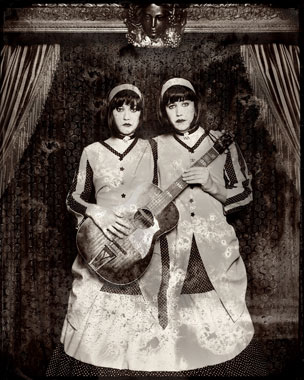 Junto a
Jason Webley
, la carismática
Amanda Palmer
vuelve a formar un dúo, como ya hizo con The Dresden Dolls para el proyecto Evelyn Evelyn, cuyo disco ya está a la venta.
Singular aventura la de estos dos, que han unido voces y cuerpos para dar forma a
Evelyn Evelyn
, dos siamesas gemelas que comparten brazos, piernas y corazón, formando un único cuerpo.
Las canciones de este proyecto, el cual seguramente no produzca ningún álbum más, tratan, a modo de banda sonora de musical de las inquietudes de estos dos seres unidos de por vida, de las vivencias que han tenido (contadas a modo de interludio, con las narraciones de los dos protagonistas), y rematado finalmente con un cover con ukelele del
"Love will tear us apart"
de Joy Division.
Desconozco si tienen la intención de crear una obra de teatro para presentar estas canciones, pero lo cierto es que tendría su tirón. Son composiciones muy visuales, con muchos cambios de dirección y que en imágenes tendrían una significación mayor.
Un trabajo desbordante de imaginación y creatividad, con una temática que ya provocó críticas entre los fans de Amanda Palmer, que no veían con buenos ojos esta recreación en gemelos, pudiendo resultar ofensiva.
Pero nada más lejos de la intención de este dúo, que ansiaban que la gente escuchara el disco completo para que entendieran el concepto general, enfocado con respeto y discreción.
Para los amantes de los musicales a lo Chicago o Nine, disfrutarán con las nuevas canciones del cabaret pop de Amanda y su compinche, en forma de Evelyn Evelyn.
Aquí, su tema principal, "Evelyn Evelyn".
Ojito a la letra:

Evelyn, Evelyn,
Why do we bother to stay?
Why are you running away?
Don't you feel like severing?
Everything's just come together at last.
It's broken, I don't want to play.

We grew up closer than most.
Closer than anything, closer than anything.
Shared our bed and wore the same clothes.
Talked about everything, spoke about so many things.

What shall we wear tonight? What shall we eat today?
Can we go ice skating? But we just did that yesterday.
Should we be firemen? Can we be astronauts?
What if they find us? They're not looking anyway.

Fill my glass, let's drink a toast.
This is our birthday, so why are we weeping?
At your side, I feel like a ghost.
I wake up first, and I stare at you sleeping.

What shall we wear tonight? What shall we eat today?
Do you think I should marry him? But we just met him yesterday.
Should we be movie stars? Will we be millionaires?
I want to be famous. They're watching us anyway.

We grew up so very close.
A parasite needs a host.
I'm only trying to do what is best for us.
Well, I never asked for this, I never wanted this.
All that I want is some time to myself.
Looking in your eyes, I'm coming home.
Just get away from me, please just stop touching me.
You're always trying to be somebody else.
Now I realize I'm not alone.
Well, you're only scared of me.
But you never cared for me.
Why don't you let me free?
'Cause you'd never dare to be.
'Cause you never listen, you're always insisting.
(I'm just/just stop) reminiscing,
I feel something missing.
I just want (you here with me/my privacy),
God (can't we just get along/won't you leave me alone)?