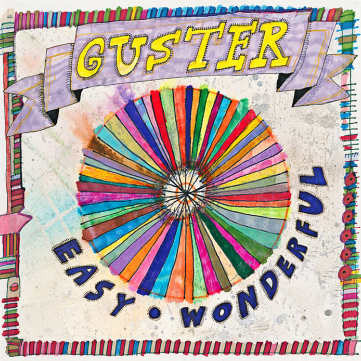 Se han tomado su tiempo. Han pasado más de 5 años entre
"Ganging up on the sun" y "Easy wonderful"
, su flamante nuevo disco que verá la luz mañana.
Entre tanto, los tres miembros de Guster se han dedicado a sus familias, han sido padres y han aparcado su profesión. Entre biberón y biberón, han encontrado tiempo para grabar lo que es su sexto disco de estudio. La dedicación completa que tomaron con
"Ganging..."
del que también firmaron la producción, les era imposible con
"Easy wonderful"
(nombre cogido de un anuncio publicitario que vió la mujer de uno de los componentes).
Por eso, es David Kahne (The Strokes, Paul McCartney) el que pasa a dar forma al nuevo sonido de la banda y a meterles grandes dosis de vitalidad y color, evidente desde la portada del album. Es alucinante encontrarte con un disco del que sus doce cortes podrían ser sencillos comerciales sin ningún problema. Debe costar elegir y eso es algo que les han debido decir, porque Guster emprendió la idea de grabar un videoclip para cada una de las canciones. Los videos se van dando a conocer poco a poco; por ahora, tenemos cuatro dando vueltas por la red y el single oficial, complicada elección, corre por cuenta de
"Do you love me?"
.
Escuchando el disco, nos quedamos anonadados por la belleza sin parangón de
"On the ocean"
(uno de los temas más redondos de su extensa discografía), la fuerza del arranque que es
"Architects & Engineers"
, o el gancho contundente de
"Bad bad world"
, de todos podríamos decir algo porque todos, por lo que sea destacan.
Por eso, hay ganas, muchas de mi parte, de hacerme con la versión iTunes que además incluye cuatro canciones adicionales. Un nuevo disco de 16 canciones es casi un sueño para mí (yo me conformo con poquita cosa para soñar). "Easy wonderful" te hace ver la vida maravillosa de una manera muy fácil. Es de esos discos que te aceleran, que contienen adrenalina y que elevan hasta el infinito.
El hecho de hacerlo mucho más accesible, automático y directo, lo hace quizás caminar en paso inferior a aquel grandioso
"Lost and gone forever",
pero lo alza metros arriba de lo que fue un pesadumbroso
"Ganging up on the sun"
.
Han vuelto los mejores Guster, que sólo les queda ver reconocido todo su esfuerzo en las listas de ventas americanas, como esperamos que ocurra.
"Do you love me?"
es uno de esos temas que tanto gustan allá y que además dejan tan buenas vibraciones. Aquí os dejo el video y si podéis, haceros con una copia de
"Easy wonderful"
. Hará vuestra existencia más feliz.
Más videos,
"Bad bad world"
:
"Stay with me Jesus":
"What you call love":