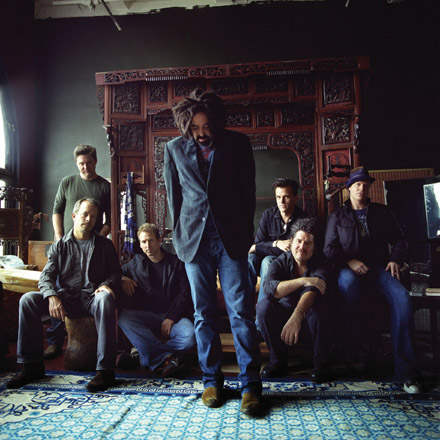 La protagonista indiscutible del día de hoy ha sido la nieve. Para algunos una alegría y para otros un auténtico martirio.
Ese factor térmico que cubre de brochazos blancos todo lo que atisbamos por la ventana tiene su lado bueno y su lado malo. Los niños podrán disfrutar arrojándose bolas y formando muñecos pero los adultos sufrirán auténticas pesadillas si intentan salir al trabajo con sus coches. Como los ángeles de Miller de los que hablaban Counting Crows hace algún tiempo, está envuelta en un halo de gracia y pecado.
Pude seguir la trayectoria de estos americanos desde que "Mr. Jones" parecía reproducirse hasta de las paredes, en lo que fue un extrañamente demasiado maduro disco debut,
"August and everything after"
. Una banda nueva se presentaba en los medios como una taciturna revisión de todo el vigorizante grunge que por aquél entonces se prodigaba. Adam Duritz, su cantante, parecía un tipo que acababa de salir de una cueva, con una visión algo agria del mundo pero con un don inmenso para retratar lo que a su alrededor acontencía.
"Miller's angels"
era parte de su segundo disco,
"Recovering the satellites"
, y era para aquellos que se vieron cautivados por su primera obra, la clave referencial que les devolvía directamente a la misma. Con Gil Norton en la producción emulando a T Bone Burnett, la teatralidad de Duritz era una constante en esta agonía de más de seis minutos.
Pocas veces se podrá escuchar a una persona pedir con tanta clemencia que le dejen solo, en su mundo, en su casa, en su dormitorio, debajo de la cama. Quizás en su cueva. Adam está analizando el mundo que le ha tocado vivir y necesita de pequeñas dosis para poder aceptarlo. El bien y el mal te saludan con una sonrisa en el primer paso desde el felpudo. Proceden del cielo azul, pero nunca sabes hacia dónde se dirigen.
Para los que conozcan un poco la obra de Counting Crows, hay un recurso repetido en la manera de escribir de Duritz, que es la de meterse en la piel de otros personajes para retratarnos sus propios monstruos. En
"Miller's angels"
alterna la tercera y la primera persona como él suele, mientras se compadece su canto, se ablanda su voz, se agrieta su alma, se arrodilla su cuerpo, se entrega al destino.
Un tema que deja muchas lecturas y que cada uno puede interpretar a su manera, pero con un poder casi sobrenatural que invade la estancia, que altera nuestros cuerpos. Casi como la nieve, con sus bondades y sus maldades, sale del cielo azul para luego desaparecer. Quién sabe hacia dónde va.
Mientras los copos ceden a la gravedad o los cúmulos de nieve se van deshaciendo, qué mejor que este tema de fondo para comprender lo efímera que es la vida.
Miller's angels in black and white
Welcome everyone in
Children dreaming of wrong and right
Wrapped in grace and in sin

They come out of the blue sky
They come out of the blue
They come out of the blue sky
But you never know where they're gonna go
Hey Romeo

Miller's fingers are traveling down the length of her thigh
But Miller's mind is still wandering
Staring up at the sky

They come out of the blue sky
They come out of the blue
They come out of the blue sky
But you never know where they're gonna go
Hey Romeo
Oh you never know, where they're gonna go
Hey Romeo

Don't, don't, don't, don't, don't, don't, don't, don't come around
Don't, don't, don't, don't, don't, don't, don't, don't come around
Please don't, don't, don't, don't, don't, don't come around

Miller's angels are hovering in between the earth and the sun
In the shadow of god's unwavering love
I am a fortunate son

They come out of the blue sky
They come out of the blue
They come out of the blue sky
But you never know
Where they gonna go
Hey Romeo
No, you never know, where they gonna go
Hey, Hey Romeo
No, oh no you never know, where you gonna go
Hey Romeo

Can't you hear me? Cause I'm screamin'
I did not go outside yesterday
Don't wake me please
Don't wake me, cause I was dreamin'
And I might just stay inside
I don't go out much these days
Sometimes I stay inside all day
Leave me, leave me, leave me, leave me alone
Won't you leave me, leave me, leave me, leave me alone
Just leave me, leave me, leave me, leave me alone
Won't you leave me, leave me, leave me, leave me alone
Won't you leave me alone