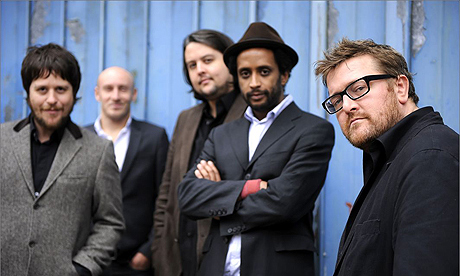 Cuando Elbow editó su ópera prima "Asleep in the back" en el 2001, las comparaciones no se hicieron esperar. La oscuridad de Radiohead, la melancolía de Coldplay... El paso de los años ha acabado por cambiar los papeles y ser ellos ahora una referencia, y también ha concedido ese merecido Mercury Prize que no se les otorgó por este espléndido disco.
Ahora se presenta en una nueva edición en 2 cds más un dvd, que es lo más suculento del proyecto. Incluye todos los videos, algunos espectaculares como "Newborn" o "Asleep in the back", así como varias actuaciones en directo de la época.
No sólo Guy Harvey ha ganado peso con los años, sino que Elbow han ganado un respeto y una notoriedad en sus composiciones que ya quisieran muchos.
Siguen relegados en Gran Bretaña y no parece que fuera de sus fronteras parezcan hacerles mucho caso, pero con lo último suyo, "The seldom seen kid", ya han logrado hacerse un hueco entre los grandes y ser los teloneros de U2, una gran plataforma de popularidad.
"Asleep in the back" contiene algunos de los temas más tétricos de toda la discografía de los ingleses. Desde su hipnótica apertura "Any day now" a la candida "Don't mix the drinks", todo envuelto en una melancolía influenciada por trabajos de Peter Grabriel en esas texturas sonoras tan atractivas como extrañas. Siempre quedará la comercial "Red" o la tremenda "Powder blue", temazo que ya le hubiera gustado haber escrito a Muse.
No he podido insertar ningún video de este disco, todos los enlaces del youtube aparecen con la inserción desactivada. Eso que sólo les queremos hacer promo, que si no...