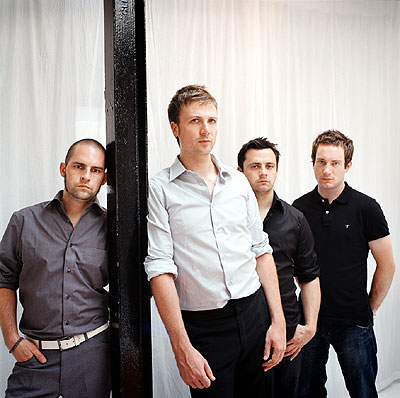 Los irlandeses Bell X1, todo unos superventas en su país, están a puntito de lanzar su ansiado cuarto trabajo, fuera de los hilos de su multinacional ISLAND.
"Blue lights on the runway" nos presenta diez temas con la difícil misión de mantener la inmensa calidad que ya nos dejaron en sus anteriores trabajos, notable en "Music in mouth" y sobresaliente en "Flock".
Ahora, la formación en la que empezó Damien Rice, ahora encabezada por el carismático Paul Noonan (además es el batería del grupo), sigue abusando de la extravaganza y la psicodelia para elucubrar las piezas de este nuevo trabajo. Más que nunca han querido ahondarse en el sonido de la banda y alargar sus composiciones, extender las diez canciones, muchas de ellas más de seis minutos y olvidarse de engordar el tracklist.
En Marzo sale a la venta el disco, precedido del primer single
'How Your Heart Is Wired'
. Esperemos (otra vez) que sea el disco que les haga consolidarse en todo el Reino Unido (olvidemos la chapuza que hicieron los de ISLAND en Inglaterra, publicando el disco muchos meses más tarde, cuando la promo había acabado).
Es un grupo notorio y de los más interesantes del panorama actual. Personalmente, de todo lo que he escuchado en los últimos años, Bell X1 me parece casi lo mejor. Sólo hay que escuchar "Eve, the apple of my eye" o "Tongue" para darse cuenta de la calidad que chorrean a raudales.
Su myspace:
http://www.myspace.com/bellx1